Ours friends at MJC Ambiental have suggested us some simple tips to, bit by bit, change our everyday life to make it more sustainable for our Biosphere Reserve.
If you are an ecotourist, we are sure you already know some of these tips!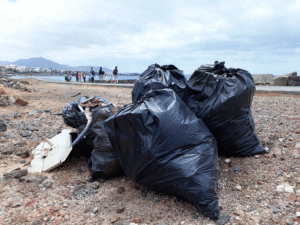 Throw those plastic bottles away and get a canteen, preferably made of stainless steel.
Do not use plastic bags. Instead, get some cloth bags, which are useful not just for your groceries, but also for when you go shopping for clothes, makeup, medicines, et cetera.
A drinking straw? Thanks, but no! Always turn down plastic straws; instead, use cardboard or metallic straws, or just forget them altogether and drink from a glass.
When you do your groceries, look at the packaging. Should you buy jam in a glass or plastic jar? Glass! Juice in a box or a glass bottle? Again, glass! Most products come in alternative packagings, and if they do not, use your head: there are a lot of products that are individually packed and then are wrapped together with another packaging. That is too much! Buy products with the smallest number of packaging as possible.
Whenever you can, buy in bulk. Use these websites to check the nearest place to buy in bulk: www.tiendasagranel.com or www.vivirsinplastico.com
Go to small businesses and markets. In them, you can find fruit, vegetables, bread, et cetera, with less packaging and it will be easier to reduce the number of bags. Plus, you will be helping the local economy!
Say no to disposable plates and cutlery. Using traditional ones help reduce your ecological footprint. If you are organising a barbecue, birthday party, et cetera, ask your friends to bring their own plates, cutlery and glasses. We know it will difficult in the beginning, but we must start somewhere.
If your friends have problems abiding to that last tip, tell them that there are also plates and glasses made of cardboard available, and wooden toothpicks can be used as forks.
Do not used disposable coffee capsules.
Cleaning products: It is difficult to find them without plastic packaging, although some are recycled. However, you can always use natural products, such as vinegar, lemon, et cetera, to keep your house clean and free of plastic and toxic substances.
Find a substitute. Just take a look at the next picture: it speaks for itself.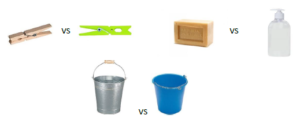 For feminine hygiene, you can change tampons and sanitary towels for menstrual cups or cloth pads, which are sold at the chemist's.
Do not use cotton buds. Not only can they be harmful for your ears, but also have a negative environmental impact that is already increasing.
Do you use toothpaste with microbeads? Exfoliating creams? Well, these are made with tiny plastic particles that end up in the sea! There are natural alternatives, like clay, sugar, and others, that are worth looking into.
Did you know that wet wipes are made of synthetic fibres? In other words, plastic. Try to avoid using them, never throw them in the toilet (even if the package says you can) and do not leave them lying anywhere.
Try to avoid using disposable razors. You do not need to be a hipster to opt for non disposable alternatives. Join the change!
DO NOT KEEP IT SECRET! Share all these simple tips with everyone so we can cut down on plastic.
These are just some of the many ways you can change the world and make it a better place to live.
Do not get overwhelmed. Start with the basics and then keep doing a bit more each day. You have already taken the first step: the desire for change.
Thanks for being part of the change!