In his everyday life, a tourism professional must consider more and more variables to satisfy the needs of specialised clients at a faster pace. How could we get it right?
When we face changes in the services that we offer to our clients, we must master so many different disciplines that, in the end, we come to the conclusion that this is more akin to a game of dice, in which the possibilities of success are little more than percentages and probabilities. Concepts like big data, small data, CEO, SEO, segment identification, offer and demand studies, emerging markets, consumer trends, prosumer, digital strategy, digital marketing, cross-selling, behavioural patterns… Many just hire a specialist to analyse all this information flying around our business and they prepare a foolproof Marketing or "Attack" Plan with minimum margin of error. But there are other possibilities, although they require a greater involvement, energy and effort. Who said it was easy?
We have all had to do a SWOT analysis at some point in our professional lives, whether it was for a business, an idea, a project, et cetera. It all boils down to analysing the Strengths, Weaknesses, Opportunities and Threats of our activity. With this map of possible action to optimise our resources, we need to differentiate between what is essential, what is important, what is urgent, and what is convenient; we also need to do any necessary adjustments in order to succeed. Although, how many times have we heard the expression "anticipate to what the people do not even know they want"? Now, it has it own name: Coolhunting, or the ability to predict tourism trends the same way a fashion designer anticipates his client's taste. However, in this world of globalisation and modernisation, we should ask whether the demand answers to the offer or if the offer predicts the demand's future wishes…
According to Manuel Serrano Ortega, one of the renowned speakers of t4t – Talent For Tourism, president of the Spanish Coolhunting Association and Managing Director of the Coolhunting Community, in 2017 our clients will demand: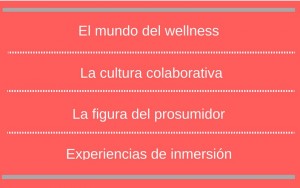 The world of body and mind wellness. Collaborative culture, nowadays everything is shared, even the workplace. Why not, then, share our spare time as well? Seems logical. In the last post, we already spoke of the prosumer; the consumer goes up a level to decide what they want. Immersive experiences are the most interesting for the TPCBR, since it promotes an active approach by the visitor to the locals, their customs, food, art, craftwork, and, of course, their language; we now find more and more offers of linguistic immersion, which are perfectly compatible with the activities developed by Lanzarote's TPCBR. If we combine these four trends with our offer, we shall be able to, by analysing our clients, identify data to optimise our service. It all boils down to vision and mission.
The businesses certified by Lanzarote's TPCBR are more than prepared for this task.