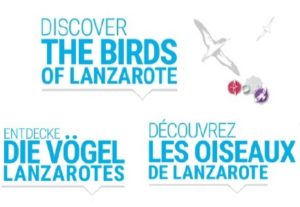 Earlier this year, Lanzarote's Biosphere Reserve Office published the infographic "Discover the Birds of Lanzarote" whose objective was to inform about, raise awareness and develop leisure and educational experiences with the endemic birds of Lanzarote.
This infographic, created by Gustavo Tejera, can already be found in every school in Lanzarote and La Graciosa, information centres, interpretation centres, NGOs and associations of the island, in the offices of Spanish Biosphere Reserves and in the businesses authorised by Lanzarote's Ecotourism Club.
One of the Club's proposals is to increase the dissemination of these materials by translating them into several languages, and we would like to offer you these downloadable infographics. They have been made for everyone who visits our Biosphere Reserve and who show an interest in the biodiversity of our islands; they are available for download in Spanish, English, French, and German.
From the Biosphere Reserve Office, we would love to encourage all of this ecotourism blog's followers to contact the Club's authorised businesses and to learn about Lanzarote's birds in a way that is respectful with the environment and biodiversity.
Click on the following pictures to check and/or download the infographic in different languages.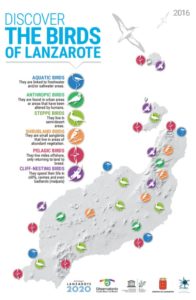 —> For more information:
Check all of the infographics edited by the Biosphere Reserve Office.